I received an art scholarship from "Die ZEIT-Stiftung Ebelin und Gerd Bucerius". With the scholarship, I will further develop my project "An Alternative History of Symbols and their Meaning".  The project involves reimagining the coat of arms of federal states, cities, towns, and villages in Germany... It's about appropriation and the role of fiction in shaping contemporary realities. More details later in the year!
The art scholarship is a joint initiative of the ZEIT-Stiftung Ebelin und Gerd Bucerius and the Hamburg Ministry of Culture and Media. It is awarded annually to seven visual artists or collectives. For more information, click

here 
Textile now – each thread tells a story. 
Group Exhibition at the Textiel Museum, Tilburg, Netherlands from 10 June 2023 till 1 October 2023. 
"From art fairs to museum exhibitions; textiles are more popular than ever. Artists from all over the world come to the TextielLab, the TextielMuseum's professional workshop, to research and experiment. Textile now displays previously unseen work by both well-known names and young talent.  They use the unique expressiveness of textiles to draw attention to current themes like identity, diversity, sexuality, gender, environment, and decolonisation, and sometimes actively involve you as an audience. 
The exhibition features work from: melanie bonajo and Théo Demans , Afra Eisma, Ada M. Patterson, Otobong Nkanga,
Karo Akpokiere, 
patricia kaersenhout and rolando vázquez, Geo Wyex, Alydia Wever and Ryan Oduber, Raquel van Haver and Bindweefsel." More information here
I'm collaborating with Medium Tings, Brooklyn to release two wallpapers! For more information click here - https://lnkd.in/e535dA_J

Medium Tings Wallpapers are one-of-a-kind collaborations with artists exploring the intersection of art and design. Karo Akpokiere's work straddles the line between fine art and graphic design and in doing so, questions the traditional hierarchies that exist between both disciplines.

"Growing up in Lagos, graphic design, textiles, and pattern design, presented through print and electronic media, played a significant role in the formation of my visual identity. The mix of T-shirt graphics, sneakers, advertising, streetwear, and comic books available locally and from different parts of the world gave me a feeling for form, composition, color, and made me sensitive to how messages and stories can be shared in ways that are accessible, ways that are as direct as they are subtle, ways that are solely aesthetic."

These designs express a rhythmic and intuitive approach to making, which is at the heart of Akpokiere's practice. "These wallpapers are a celebration of the beauty and joy of making, of the manipulation of lines with no end in mind, of connecting with place and interests, of taking a walk in the dark and feeling your way through to textured surfaces bound by lines and color."

I'm showing new work at the exhibition "The Fog of War" at the Goethe-Zentrum, Baku, Azerbaijan. The 

exhibition

 will travel to Georgia, Armenia. Kazakhstan, Uzbekistan and Germany in 2023. 

"The exhibition The Fog of War is organized by Goethe-Zentrum Baku, co-funded by European Union Delegation, supported by Kapellhaus and coordinated by PlatformArt. The project brings together artists from Azerbaijan, Ukraine, Kazakhstan, Norway, as well as from Germany in an exhibition that allows very subjective approaches to the tragedy of war. It is less about documentary strategies than about insights into the human condition itself, i. e. the "treasure of souls that was extorted from so many" as Andreas Gryphius laments in his sonnet "Tears of the Fatherland" in the middle of the Thirty Years' War".
I made some drawings for Yemisí Aríbisálà's story "Birth: A Story of Secrets". The story is a recent addition to Wepresent's Literally Series. You can view the drawings and, read or listen to the story by clicking here 
I contributed an essay to the new book "Graphic Design is not Innocent" by Professor Ingo Offermanns. "T

he publication aims to initiate a dialogue between designers, scholars, critics, and commissioners, who investigate responsibilities, potentials, politics, limits, and risks of designing visual communication". For more information and to buy a copy, click here
Glad to be nominated for the 2022 Paula Modersohn - Becker Kunstpreis. The exhibition runs from 26. November to 5. March 2023. More details here
I will exhibit a tapestry at the 17th Tapestry Triennale, Central Museum of Textiles, Łódź, Poland from 8. October to 15. April 2023. More information here.
Lost Drawings project at MMCA (National Museum for Modern and Contemporary Art) Residency Changdong, Seoul from the 3rd of March, 2022. 
I'm currently developing my first woven tapestries at the TextielLab, Textiel Museum, Tilburg, Netherlands. The tapestries will be completed in January 2022.
I have been awarded the 2021 Lichtwark-Förderpreis by the city of Hamburg, Germany alongside the artist Julia Phillips. For more information, click here. 
Die Vergangenheit ist ein Weg (The Past is a Path) 2020, is a drawing project I made for MARKK Museum, Hamburg's exhibition - "Hey Hamburg, kennst du Duala Manga Bell?".  For more details, please click here
I collaborated with Moncler for their '2 Moncler 1952' F/W 2021/2022 men collection. For more images, click here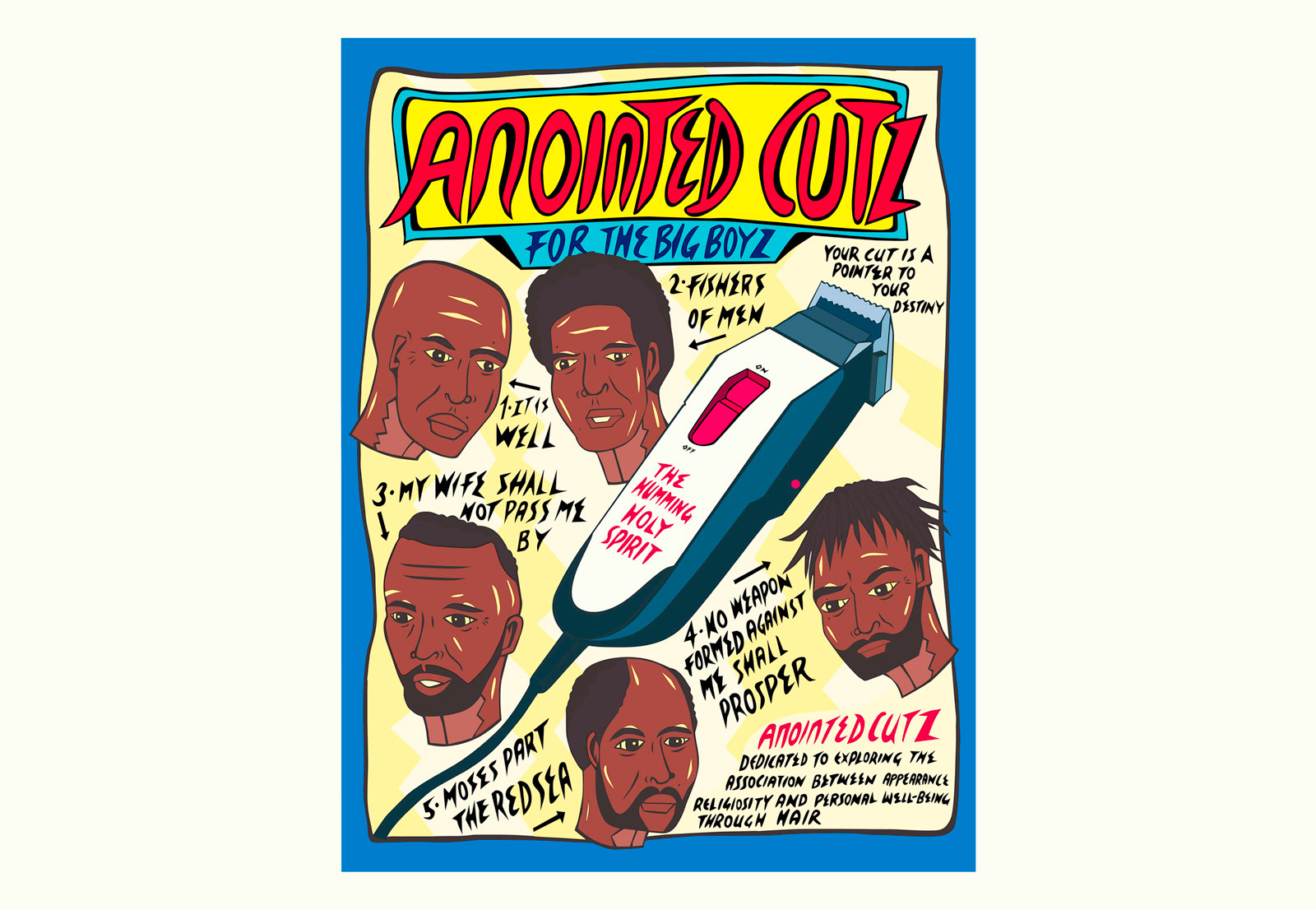 'Anointed Cutz' (image above) is part of the exhibition 'Textures: History and Art of Black Hair' at the Kent State University Museum, Ohio. For more information, click here